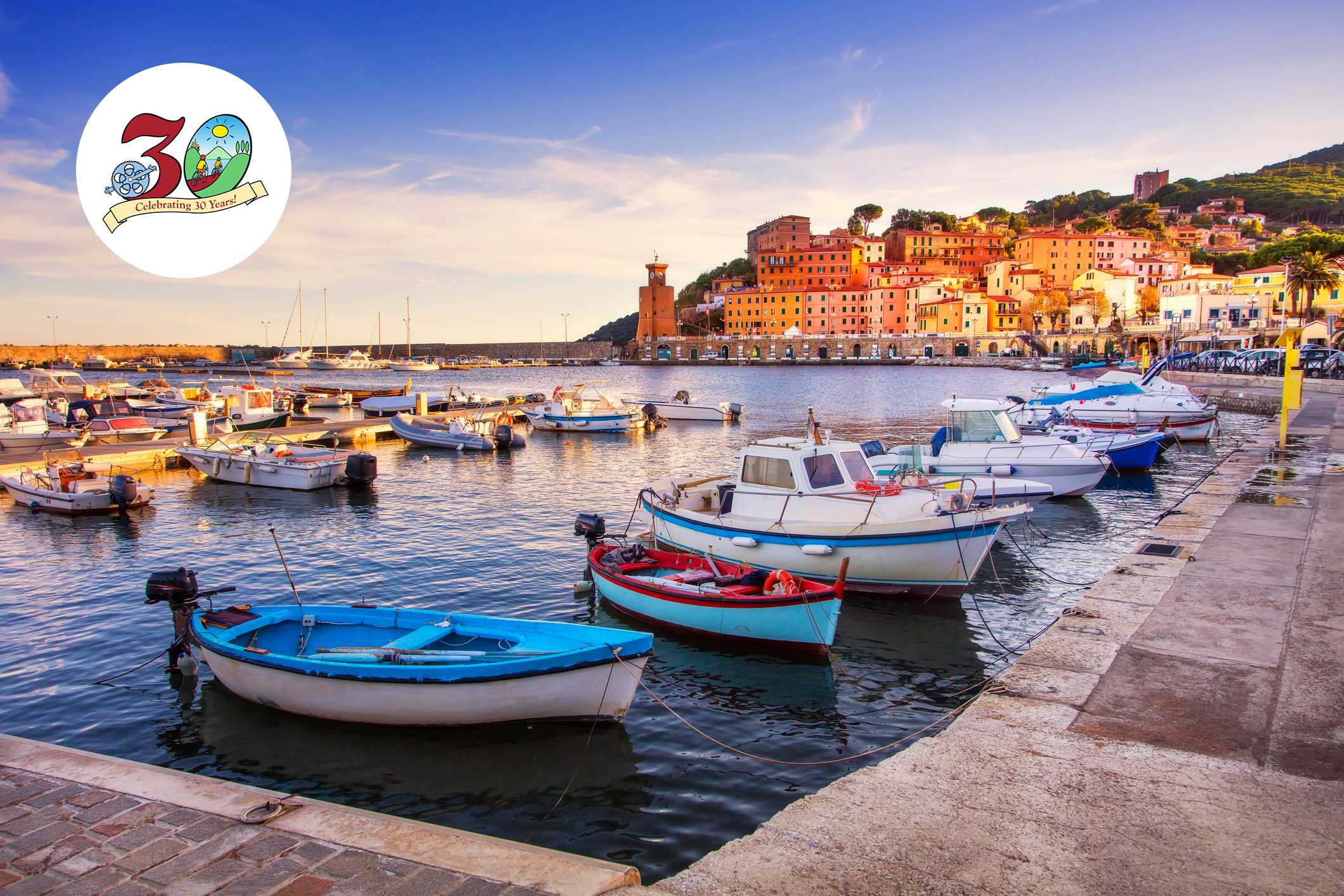 A Pedaling Renaissance
Discover Tuscany and the Enchanting Island of Elba on our 30th Anniversary Tour!
ARLINGTON, Mass - August, 30, 2018 - Next June, Ciclismo Classico is returning to its roots with revival of a classic itinerary to celebrate its 30th year of leading transformational active travel tours in Italy and around the world! In 1989, CEO and founder, Lauren Hefferon, who had the combined roles of itinerary designer, guide, and operations manager, led the first inaugural Ciclismo tour through the beautiful Tuscan countryside and onto the lesser-traveled island of Elba, positioned just off the coast of Tuscany. The tour was called Tuscany and the Enchanting Island of Elba.
As the first female-owned bicycle touring company and a pioneer in bicycle travel in Italy, Ciclismo Classico is proud to celebrate its heritage by bringing back this iconic route. The tour will be lead by 20-year Ciclismo veteran Marcello Bonini (2014 Tour Guide of the Year) and co-led by Lauren.
Lauren came up with the idea for the tour by exploring her surroundings by bicycle in order to uncover the hidden treasures of the area and following her nose to tiny bakeries where she would often make a meal out of a fresh loaf of bread and buttery mozzarella di bufala. She was truly enchanted by this island, and is excited to bring back one of her all-time favorite tour creations.
The tour highlights sections that only true locals would know, like the Strada di Sette Ponte or the western road that hugs Monte Capanne, providing guests with sweeping views of the Mediterranean. Travelers will be immersed in Tuscany's rich culture, natural beauty, and infinite olive groves and vineyards. Your day will be filled with bike rides through breathtaking landscapes, and exploration of classic Tuscan hill towns Radda, Siena, Volterra and San Gimignano.
This exclusive tour concludes on the enchanting island of Elba, which has been recognized for centuries for its elusive beaches, warm crystal waters, mountain vistas, and tranquil villages. Park your bike, dive into the warm blue waters, and discover why Napoleon chose to exile to this humble paradise.
When Lauren first led guests on this inaugural tour in 1989, she knew she had discovered her purpose in life, to share and transform others through her love of cycling, Italy, and active, educational experiences. Little did she know that soon her tour creations would pedal through every region of Italy, expand to over 10 other countries, and include her passion for photography with picture perfect tours in South America.
Here's to another 30 years!
Ciclismo Classico is the pioneer in bicycle travel since 1989, creating an active experience that sparks your passion. Over our 30-year history, Ciclismo has grown to lead tours beyond Italy and in more than 10 countries worldwide, but we've never forgotten our Italian heritage designing tours that capture la dolce vita, one pedal stroke at a time.
Contact Information:
Laura Gray – Marketing Coordinator
781-646-3377

Lauren Hefferon – CEO and Founder
781-646-3377